Yoga in the Basque Country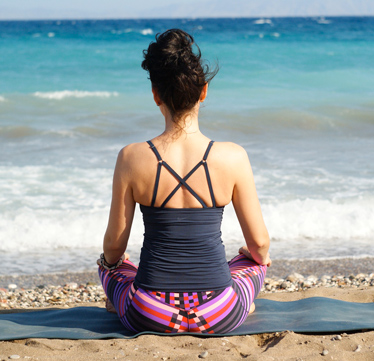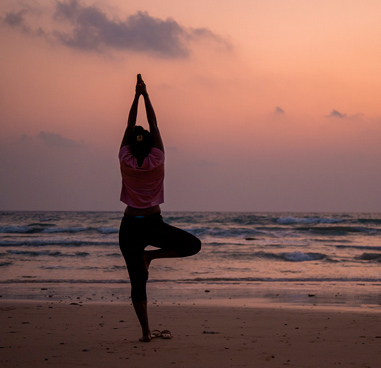 Our yoga classes in Hendaye
Deborah offers yoga classes on the beach in Hendaye, every morning in good weather. Take time for yourself, do yourself good and offer yourself a moment of complete disconnection facing the ocean. Men or women, athletes or not, beginners or enthusiasts, yoga has no conditions!
A teacher since 2018, Deborah passes on a holistic practice. Each class is unique to the group and includes exercise instruction of:
breathing (pranayama – refocuses on self, revitalises),
postures (asana – strengthens and softens),
relaxation (relaxes the body and mind)
and meditation (calms the nervous system, soothes mental agitation).
To discover yoga or deepen its practice, the Surf School Hendaye offers courses at the best price.

"Yoga is for me an art of living, a philosophy of life. A practice that has taught me to listen to my body and my emotions, to accept myself and to always be in tune with myself. It's not about always being zen, composed and smiling, but about taking care of yourself and feeling in synergy with your environment."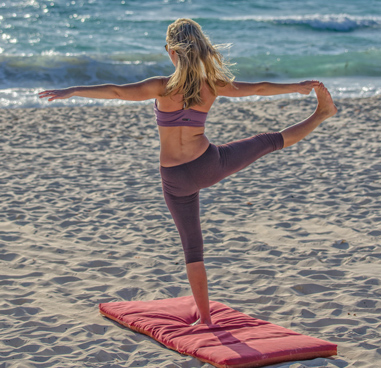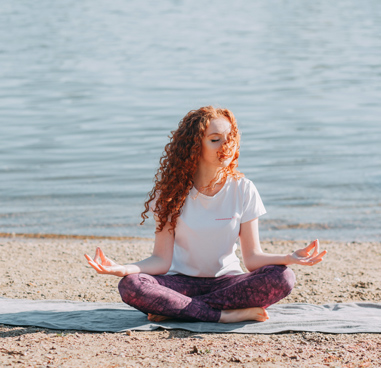 Yoga on the Basque coast
Yoga is gaining more and more followers around the world. This physical, mental and spiritual practice provides many benefits and helps improve the psychological state like no other sport, according to some die-hard fans.
It reduces stress and helps you live more serenely as it is a soothing activity par excellence. It improves breathing and breath, in fact breath control is even the fundamental basis of yoga.
The different breathing techniques of yoga have multiple benefits: calming, energizing, balancing… In addition, yoga improves concentration, helps fight fatigue and strengthens flexibility.
It turns out that yoga and surfing have some commonalities in terms of benefits for the mind. So it's worth combining them for even more satisfying results. That's why every summer, from July to September, you can practice yoga on the beach in Hendaye.

Your yoga teacher Karen
Karen has been practising yoga for over 10 years, and has turned her passion into her profession. It was during her travels around the world that she fell in love with this art of living and developed a passion for the human being, the body and the philosophy of yoga. After teaching in Costa Rica, Argentina and at a surfcamp in Morocco, she settled on the Basque coast in 2017 and continues to pass on and teach this philosophy that accompanies her every day. Through Vinyasa yoga classes, combining breathing exercises, postures (asanas), meditation and relaxation, she invites you to take a moment for yourself, and with yourself, facing the ocean, to make your body more supple, refocus and calm your mind. She will gently guide you towards a relaxed approach, allowing you to practise at your own pace and according to your physical abilities.
Meet her every Wednesday from 9am to 10am on the beach at Hendaye.

Our surf and handi surf courses